The 10 Greatest Dorm Room Space Savers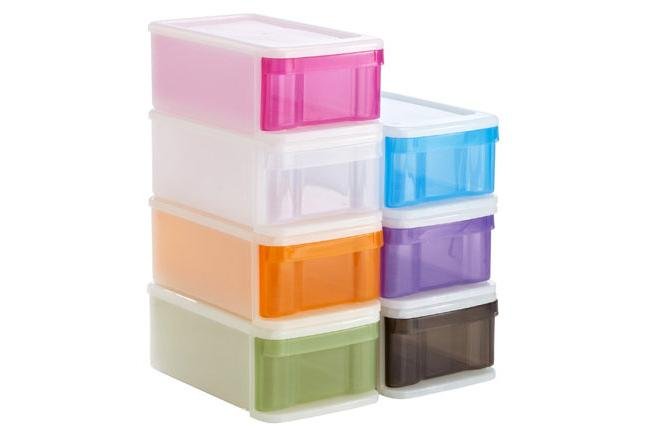 Living in a dorm room may, at times, feel like you are living in a very cramped space shuttle- for an entire school year. It's important to stay organized and utilize every inch of space in your room. Once the school year starts, you will find yourself busy with schoolwork, social events, and sporting contests- which is why we've put together a list of space savers for your dorm room to get now, before the excitement of the new school year starts.
It's inevitable- your dorm room is small. It will be difficult to fit everything without feeling boxed in. Make the most out of your room with these inexpensive space savers!
1. Bed risers that double as a power outlet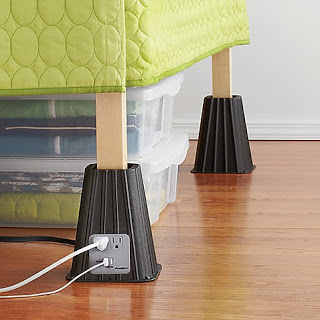 These bed risers from Bed, Bath, and Beyond help raise your bed seven inches off the floor for under-the-bed storage space. One riser even houses a power outlet for convenient charging.
2. Plastic shoe storage used for snacks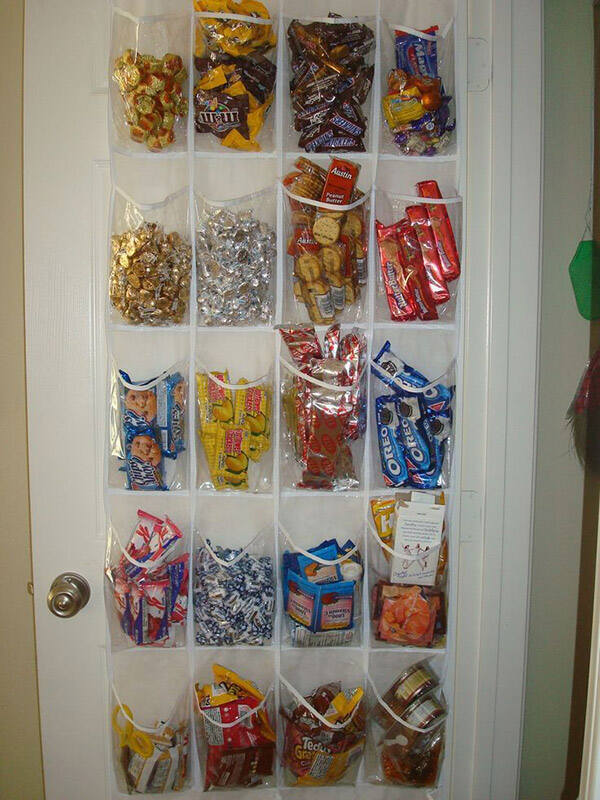 Free up desk space and drawer space by storing all your snacks in a plastic shoe storage. Hang it over your door or in the closet for easy access.
3. Bedside storage caddy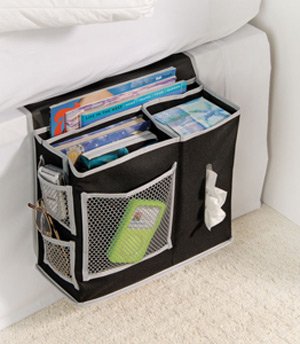 This storage caddy is perfect for a dorm, especially if you don't have a bedside table. Easily store a water bottle, books, your cell phone, and so much more.
4. Multi-purpose hanger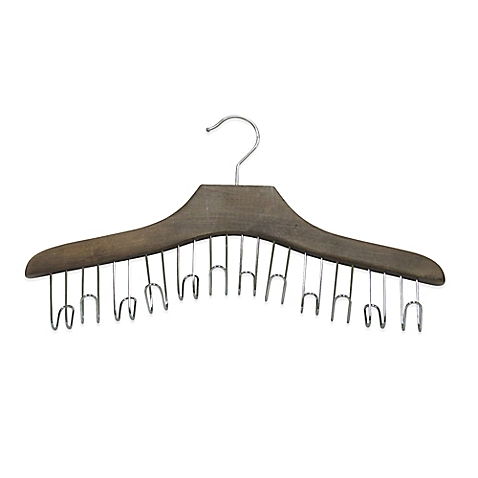 Originally a belt hanger, this hanger can be used to store not only belts, but also necklaces, ties, and hats. With this hanger, keep your jewelry from getting into a tangled mess on your desk.
5. Under-the-bed storage boxes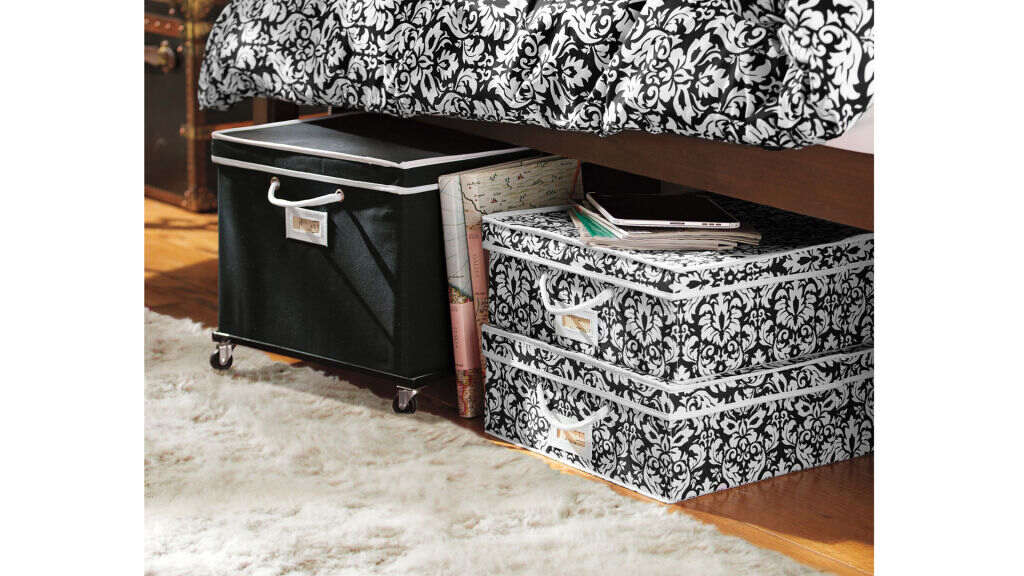 Keep seasonal items in containers and under-the-bed storage boxes. Extra school supplies, an alternative pair of sheets, and winter clothes are just some examples of what to keep in "storage" under your bed.
6. DIY multi-hanger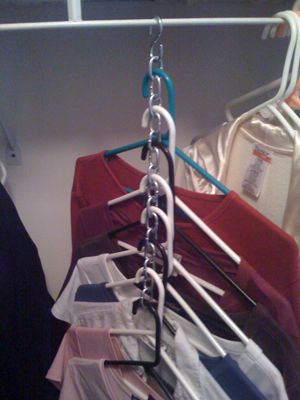 Super easy and affordable DIY hanger trick! Hang more items on a single hanger with a utility link chain. Find instructions here.
7. Grid organization system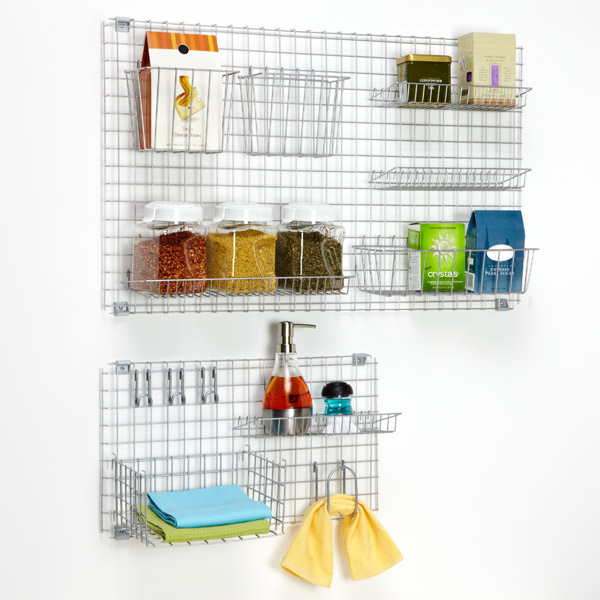 Choose how many hooks, baskets, and shelves you want on your grid system! Organize your school supplies or even silverware at a low price of $10 here.
8. Colored storage drawers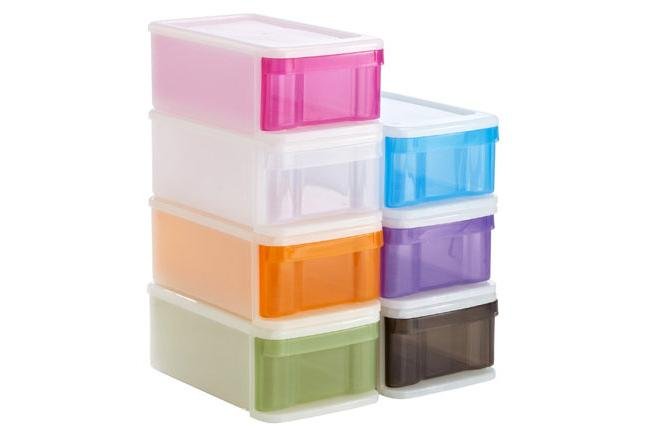 Organize papers, books, medicines, and more in these drawers. Even keep them under your bed to leave more space around your dorm room.
9. Pant hangers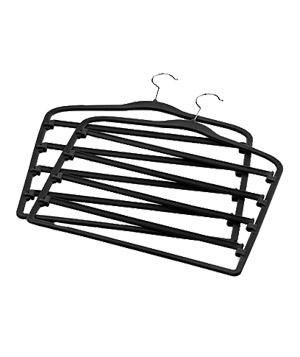 Instead of allowing your pants to wrinkle up in drawers, hang them on this pant hanger from Bed, Bath and Beyond! If there's not enough space in your small closet, fold your pants over each bar of this hanger and neatly place in your drawers for less wrinkles and better organization.
10. Plastic shoe storage hideaway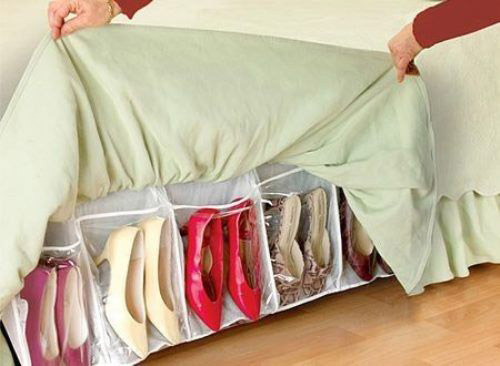 Store all your shoes in this plastic storage item. Tuck it underneath your mattress to save space in your closet and keep your collection of shoes out of sight.
More From Personal Mini Storage