10 Moving Tips for a Smooth Transition
Moving can be a daunting task. Between sorting items, packing boxes, and the actual move, the process can quickly become overwhelming. However, with the right strategies and little help from Personal Mini Storage, your move can be not just manageable but smooth. Dive into our 10 moving tips, to optimize your experience and save you from common moving mishaps.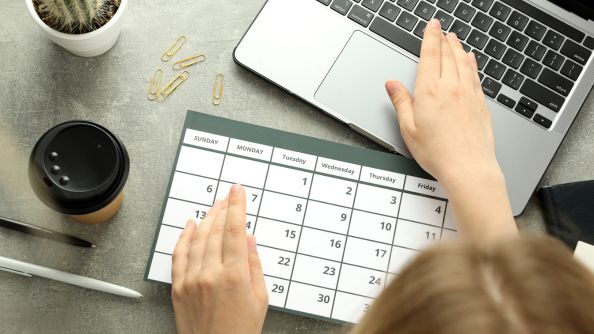 1. Start the Countdown Early
Sketch out a moving timeline well in advance. By laying out a detailed plan week by week, you can allocate specific days for sorting, packing, and other essential tasks. This organized approach can significantly reduce the usual stress associated with moves.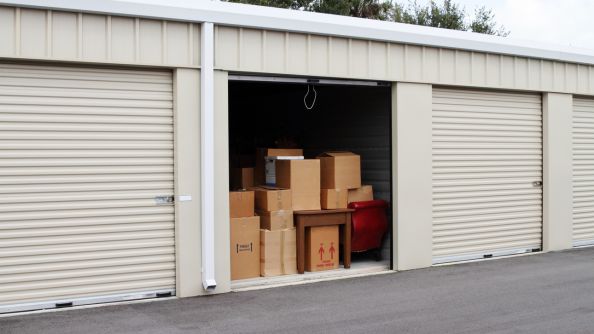 2. Declutter and Use Self-Storage
Before you even pull out the packing tape, take a day or two to sort through your belongings. Decide which items can be stored, donated, or sold. For items you're sentimental about or seasonal goods that you don't require immediately, consider self-storage solutions.
3. Invest in Packing Supplies
Invest in sturdy boxes, bubble wrap, and packing tape to ensure your items are safe during transit. We provide all moving supplies that are essential for your move. Use a U-Haul truck to gather everything and make it one trip to stay efficient.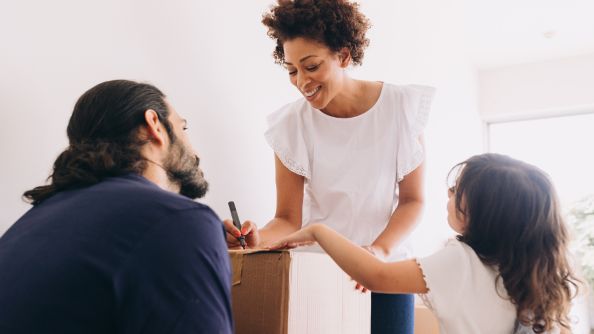 4. Label Your Boxes
A well-labeled box is a lifesaver. Not only should you indicate the contents, but also prioritize them (e.g., "Open First"). Each box should have a clear label indicating its contents and the room it's destined for. It not only helps in unpacking but also helps if you decide to store certain boxes.
5. The Essentials Box is Crucial
The first night in a new place can be disorienting. Prepare a clearly marked 'essentials' box with items like toiletries, a change of clothes, basic kitchen utensils, chargers, and crucial paperwork. This box should be the last to load and the first to unload.
6. Inform and Update
Inform crucial services about your move. Whether it's your bank, friends, or subscription services, ensure they have your new address.
7. Wardrobe Packing Hacks
Your clothes can double up as protection for fragile items. Think socks for glasses or shirts for plates – a perfect way to minimize breakage and efficiently utilize space. Not only does this provide excellent protection, but it also reduces the amount of additional packing materials needed.
8. Prep Your New Home
Visit your new place before the move, if possible. Ensure utilities are set up, do a deep clean, and maybe even chalk out where major furniture pieces will go. This foresight can save a lot of time on moving day.
9. Kids and Pets: Plan Ahead
Moving day chaos is easier for adults to handle than for pets and kids. Talk to the kids about the move, get them involved in packing their things, and maybe even let them design how their new room will look. Consider arranging a day's stay for both kids and pets with friends or family.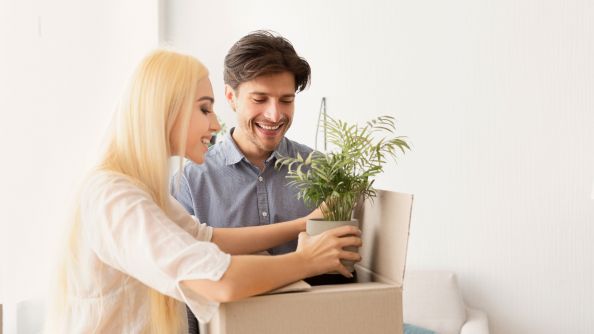 10. Properly Pack Plants
Place each plant in a box that's large enough to comfortably accommodate it. Poke some holes in the sides for ventilation. If the plant is tall, place bubble wrap or newspaper to cushion and stabilize its base within the box. This ensures the plant remains upright and doesn't get crushed by other items during the transit. On moving day, keep these boxes open for sunlight and fresh air, and make sure to position them last in the moving vehicle, so they are first out at your new home.
---
Transitioning to a new home is more than just a physical move; it's an emotional journey. By teaming up with Personal Mini Storage, you get more than just storage solutions – you get a partner dedicated to making this chapter of your life as seamless as possible. Embrace the move with the assurance that you're well-prepared and backed by the best in the business.
Just Moved? Here's How to Make Your New House Feel Like Home
Moving can be a stressful time. Between unpacking all of your belongings and traveling to a new location, it's often difficult to settle down and make your new house a comfortable place right off the bat. Fortunately, there are many ways to make your new house feel like home! Follow these tips and ideas to help make your new home a comfortable place to live after a big move.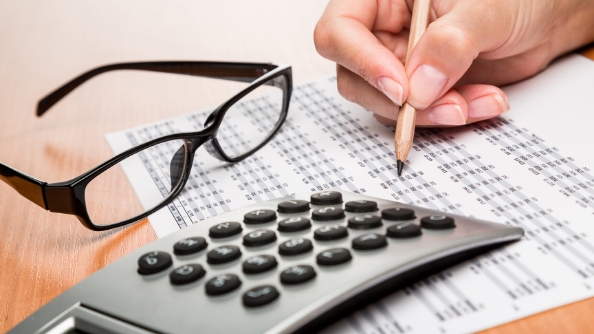 Do Some Cost Planning
The process of moving comes with unexpected expenses; therefore, cost planning is an important step to consider. Start a thorough process by writing down all of the expenses you expect to incur. These can be moving van or storage services, home upgrading costs, or even security and safety expenses. Once you've researched your options and documented your findings, tally a total spend, and see how it fits into your home budget.

It's a good idea to look into your options in order to make sure you're making the best decision for your money and your goals, especially if you plan to finance your expenses. As you do research into different financing options available, you'll find that some will make more sense for your particular circumstances than others. For instance, a personal loan provides you with a lump sum upfront, whereas personal lines of credit and credit cards allow you to borrow against a certain limit. Each option will have its set of unique benefits; it's about choosing the option that's right for you.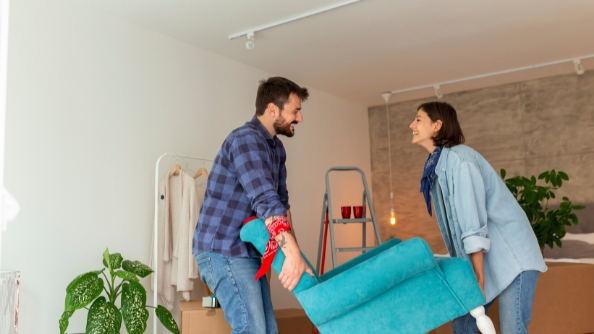 Focus on the Furniture
After moving, your new space is going to look like a blank, empty canvas for you to make your own. New furniture is a great way to fill the space and create more dimension. It can truly make your home go from plain to comfortable and stylish.
When thinking about furniture additions, create a layout of your living space. This process may be done in a few ways, either by drawing out your floor plan or mapping everything out virtually with services such as Amazon Showroom or Living Spaces. This might help you get an idea of what size, color, or style of furniture you'd like in your rooms before purchasing.
It's important to keep in mind that furniture has a big impact on the aesthetic and comfort of your home. Although buying furniture online is a popular option, looking in person at stores is a way to test the waters and avoid buying furniture that is uncomfortable, something you can't tell just by looking online. While you're walking through the store, try out different sofas, chairs, or benches to make sure that what you're going with is exactly what you want.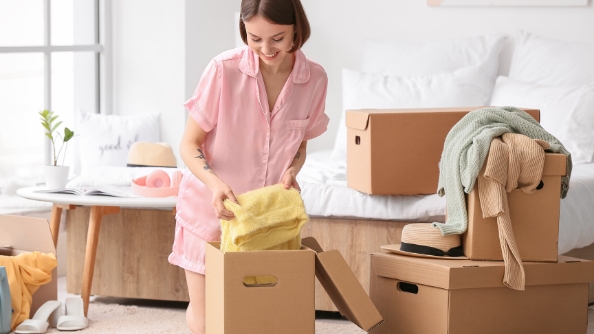 Stay Organized
After a big move, you'll likely have a lot of moving boxes, clothes, and other items from your old home that need to be unpacked and stored. You can stay organized by putting your moving totes into their designated rooms to prevent everything from being crammed into one room. This is important for creating a more relaxed and organized environment.
If your home has less storage space than you might need, or if you'd like a place to keep your belongings while you move, utilizing a storage unit can be a great option. Look for a storage unit in your area before you move and utilize it to save yourself space in your new home.
Decorations like shelving units or multi-purpose furniture like beds with storage space underneath can be a great way to conceal extra clutter. Whatever you decide to go with, having items in your home that can keep your space organized will reduce the time you need to spend cleaning and decluttering on a day-to-day basis.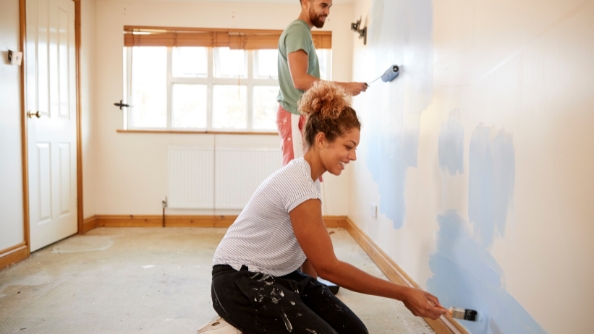 Add a Splash of Color
New spaces may come with old colors, so you may need a fresh paint job if the last owner's choice is not your personal preference. Sometimes updating the color scheme in your home can make a difference and help you get acquainted with your new home faster.
You can do this by choosing colors that remind you of your old home or another place you're particularly fond of, like the beach or the forest. Doing this can create a nostalgic atmosphere in your home, helping ease your transition from your old home to your new, and making your new home feel comfortable and relaxing. This can be done with an entirely new paint job for your house or just some accents and decorations here and there that give you subtle reminders of places you love.
As you become acquainted with your new house, these extra details like proper financing, paint color, and storage will help with the transition and allow you to feel comfortable in the space you've created.
5 Inventive Ways to Use Pegboards for More Storage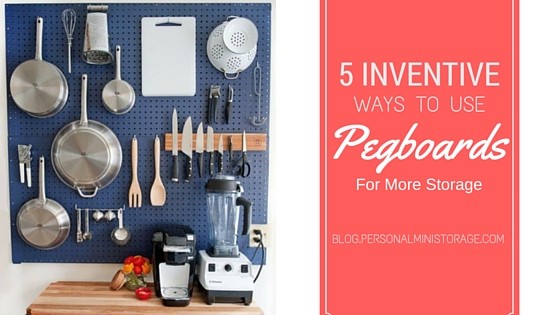 Many people lack the amount of storage they truly need within their home. Creating storage can be difficult and strenuous. Most people look for places in cabinets or on counter tops, but what about vertical storage on the wall? Pegboards are one of the more popular storage solutions at the moment. They are one of the most versatile options that will declutter any room in the home.
The vertical storage not only gives a home to your belongings, but it will fill up the blank spaces on your walls. Pegboards can be painted, enlarged or reduced in size, and can hold objects on every inch. Not to mention the objects can easily be rearranged or you can move the pegboard as a whole. The options are endless with pegboards. Here are just five ways you can use pegboards for more storage around your home.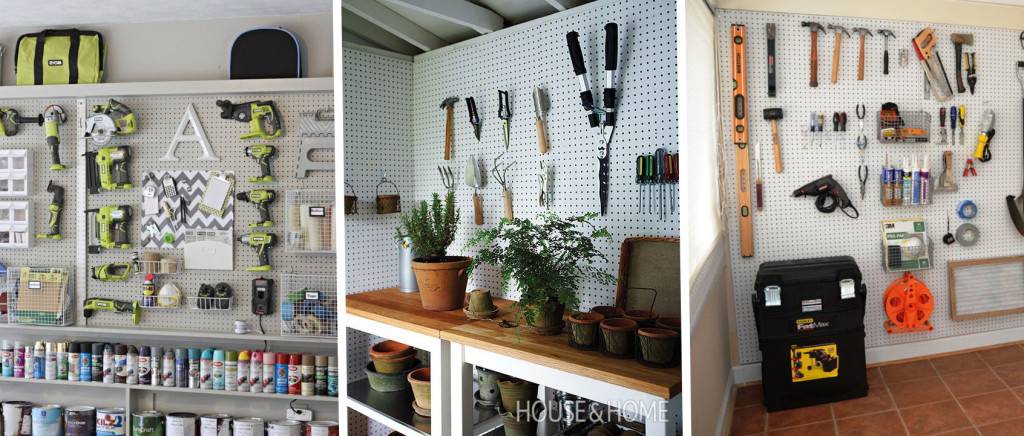 1. Garage & Garden Pegboards
Pegboards are a great way to reduce clutter in your garage. Don't you want to actually park your car in your garage? A garage pegboard will keep everything nice and organized and off the floor. Not only could tools and painting materials be hung but sports equipment as well. Pegboards also work great in garden centers. Tools and plants can be hung to create more organization on your back porch.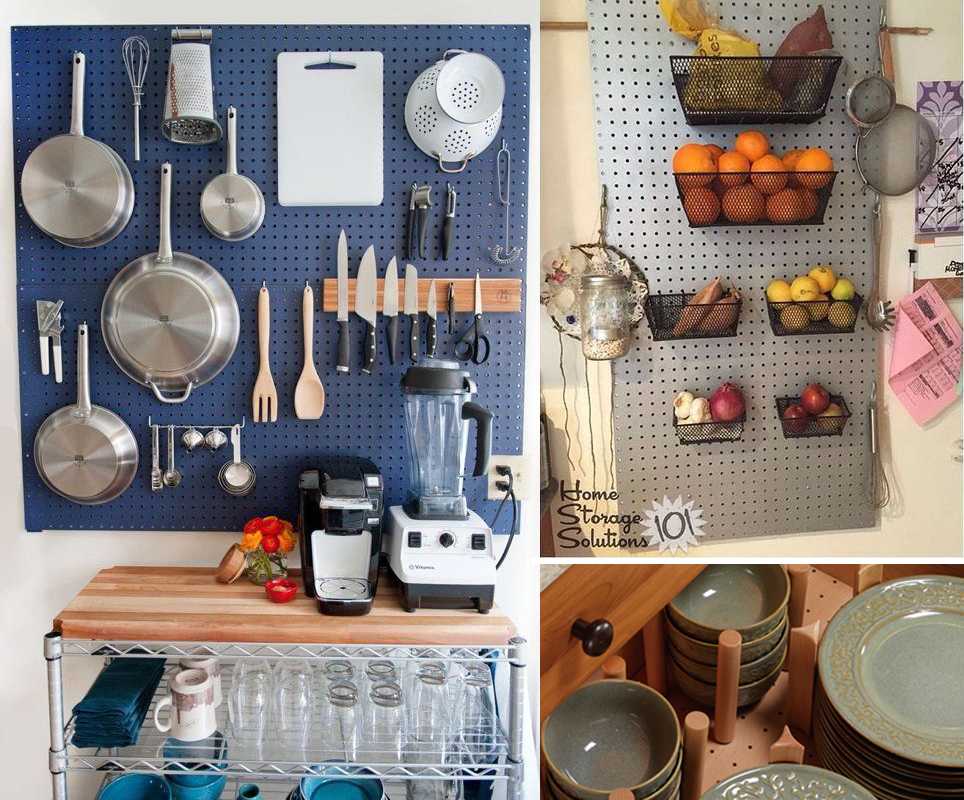 2. Kitchen Pegboards
Pegboards in the kitchen is a very popular choice. We all realize, as our toe gets slammed from a falling pot, that pots and pans do not stack well. Hanging your pots and pans is a much better option. Pegboards give you the ability to rearrange your awkward shaped kitchen items how ever you would like. Move them around until everything fits just perfectly.
Fruit baskets hang great as well on pegboards. Kitchen counters always seemed to get cluttered with baskets of fruits or utensiles. The clutter can easily be fixed by hanging a pegboard in the kitchen. Need organization in the cabinet? Instead of hanging the pegboard lay it flat in your kitchen drawers. This will organize your plates and bowls and keep them from sliding into each other!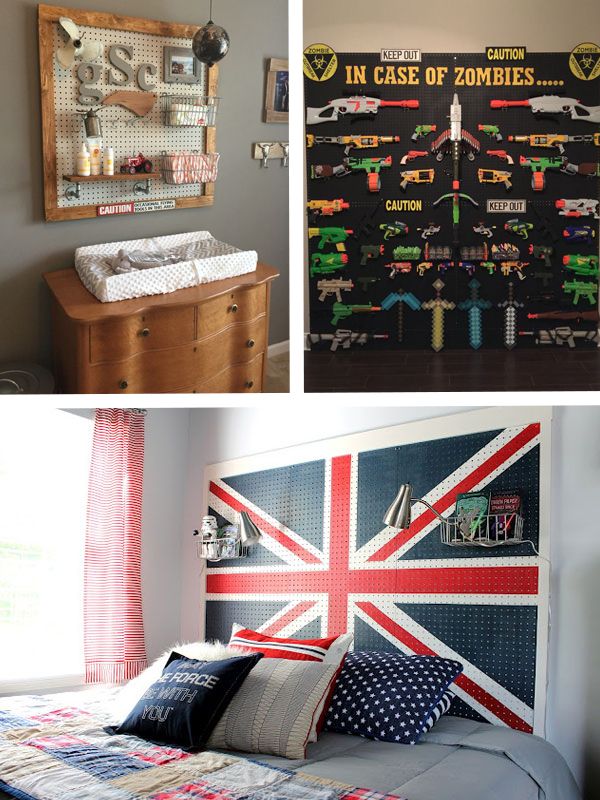 3. Childrens Pegboards
As children grow their likes, dislikes, and fears are always changing. Pegboards are a great option for storage in your child's room because of their versatility. As the room changes you can change the pegboard to match the theme and colors without having to buy new storage options. As the child matures the pegboard will mature with the child in terms of what you place on the board. Being able to take things off and put new things on the board makes this storage simple and quick.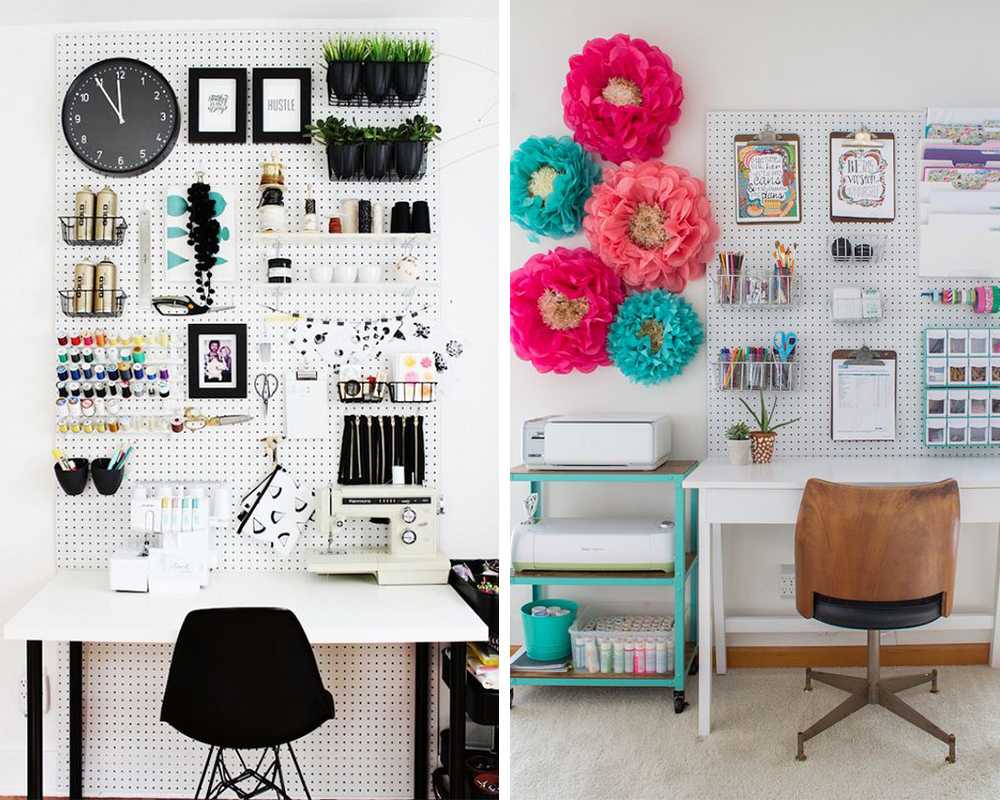 4. Office Pegboards
Is your office filled with clutter? Papers seem to end up lost and pens randomly go missing. Having an organized work space lessens stress and chaos. Create a pegboard above your desk to store and organize all of your office supplies. Pegboards are also great for craft rooms or sewing stations. With the amount of space and the ability to place pegs or hooks on every inch, the board can hold everything you can possibly need for your works of art.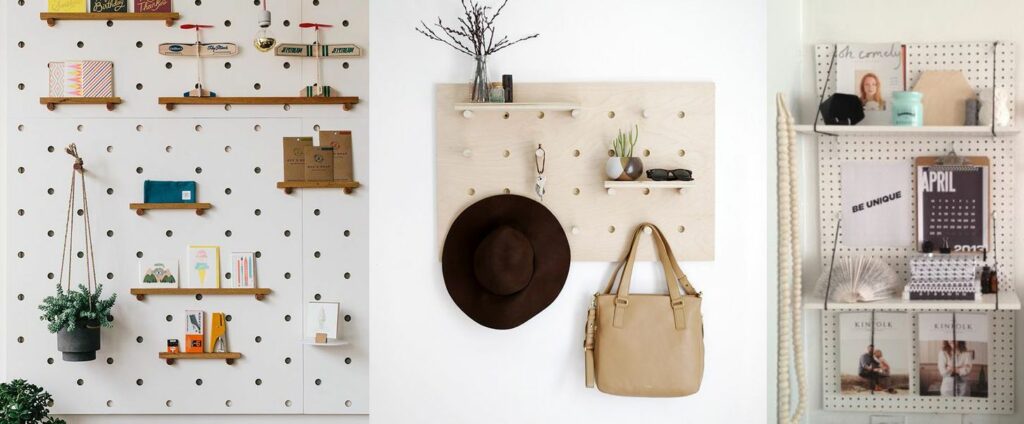 5. Living Space Pegboards
Mudrooms and front hallways are typically the first and sometimes the only part of the home people see. It's also the place where the whole family throws their shoes, bags, keys, and mail as they walk in the door. Keeping this space organized relies on the amount of storage. To create extra storage hanging a pegboard would be a good choice. Hats, coats, bags, and keys can all be hung on the pegboard as you walk in the door. They also work great to hang shelves to store vases and other decor in your living space! Use large pegboards or small! The choice is all yours!
When trying to create extra storage around the home consider using pegboards. The options are endless and the versatility makes the storage simple and quick. Items aren't being thrown together in a basket for you to search for later and they sure aren't taking up space all over the counter. Using pegboards as storage creates organization and declutters your home.